Annual Events
TEDx
TEDx is a local gathering where live TED-like talks and videos previously recorded at TED conferences are shared with the community. TEDx events are licensed events, but are fully planned and coordinated independently.
All of the carefully prepared talks, demonstrations and performances are idea-focused, and cover a wide range of subjects to foster learning, inspiration and wonder – and provoke conversations that matter.
The European School has hosted the TEDx conference ten times. Every year our students have a chance to introduce their projects, findings, thoughts to the school community and invited students from other schools and universities. 
Astrid Lindgren's Week
Famous Swedish author of children's literature Astrid Lindgren is respected and loved by all. It is noteworthy that interest in her books is significant up to now. Astrid Lindgren's Week is a large-scale event at the European School where many students participate.
The main goal of Astrid Lindgren's Week is to increase the students' literacy level, to promote the love of books, and inform children about the life and the works of the famous author.
Within the celebration week, the school hosts diplomats from the Swedish Embassy, writers, publishers, and famous actors; Students engage in literary quiz-shows; They make presentations; Children come to school dressed as Pippy, Karlsson, and Emil; Writers read Astrid Lindgren's books for students; Theater performances and exhibitions of students' paintings are held; Degustation of food from Astrid Lindgren's books are arranged; Certificates are awarded to the participants of Astrid Lindgren's Week.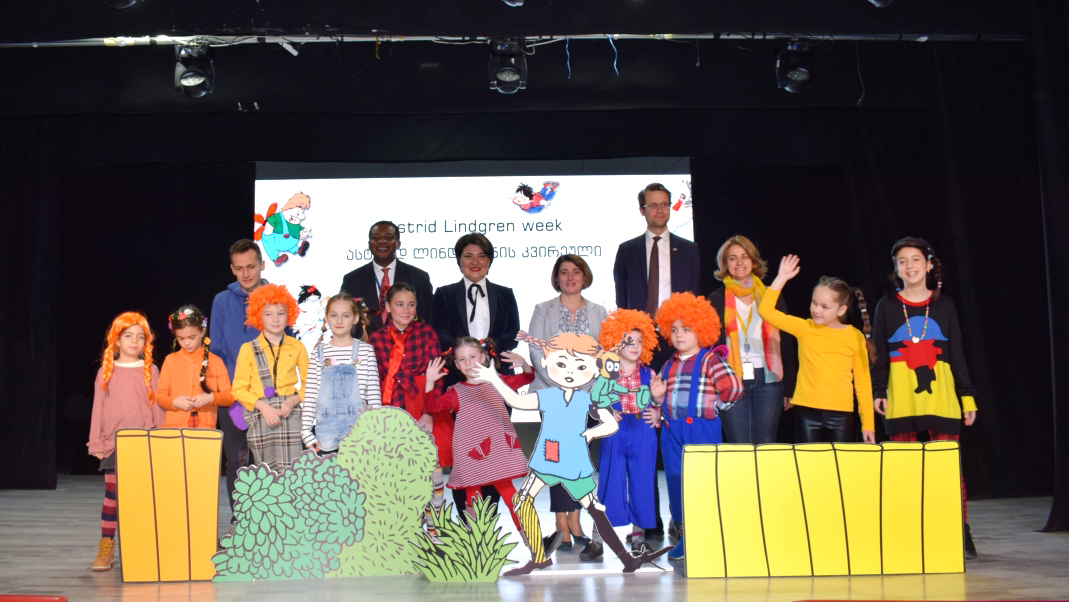 European School Classical Music Festival
In order to popularize classical music, showcase students' talents and support students who perform classical music, the European School has been organizing the annual Classical Music Festival since 2014.
The festival has its own program and guidelines. The growing number of participants indicates that the festival has become very popular among the students.
The competitors are judged by a competent jury.
Traditionally, the jury is headed by Ms. Rusudan Sebiskveradze: a famous composer, honorary citizen of Tbilisi, Order of Honor recipient and the head of the European School singing studio.
The festival consists of two stages. Special diplomas are awarded to the competitors who make it to the second stage. Distinguished nominations, such as "Best Performer," "Most Skillful Performer," "Jury's Favorite," are also awarded.
The winners of the classical festivals include Nini Bziava and Mariam Merabishvili, who have gone on to win different national and international piano contests.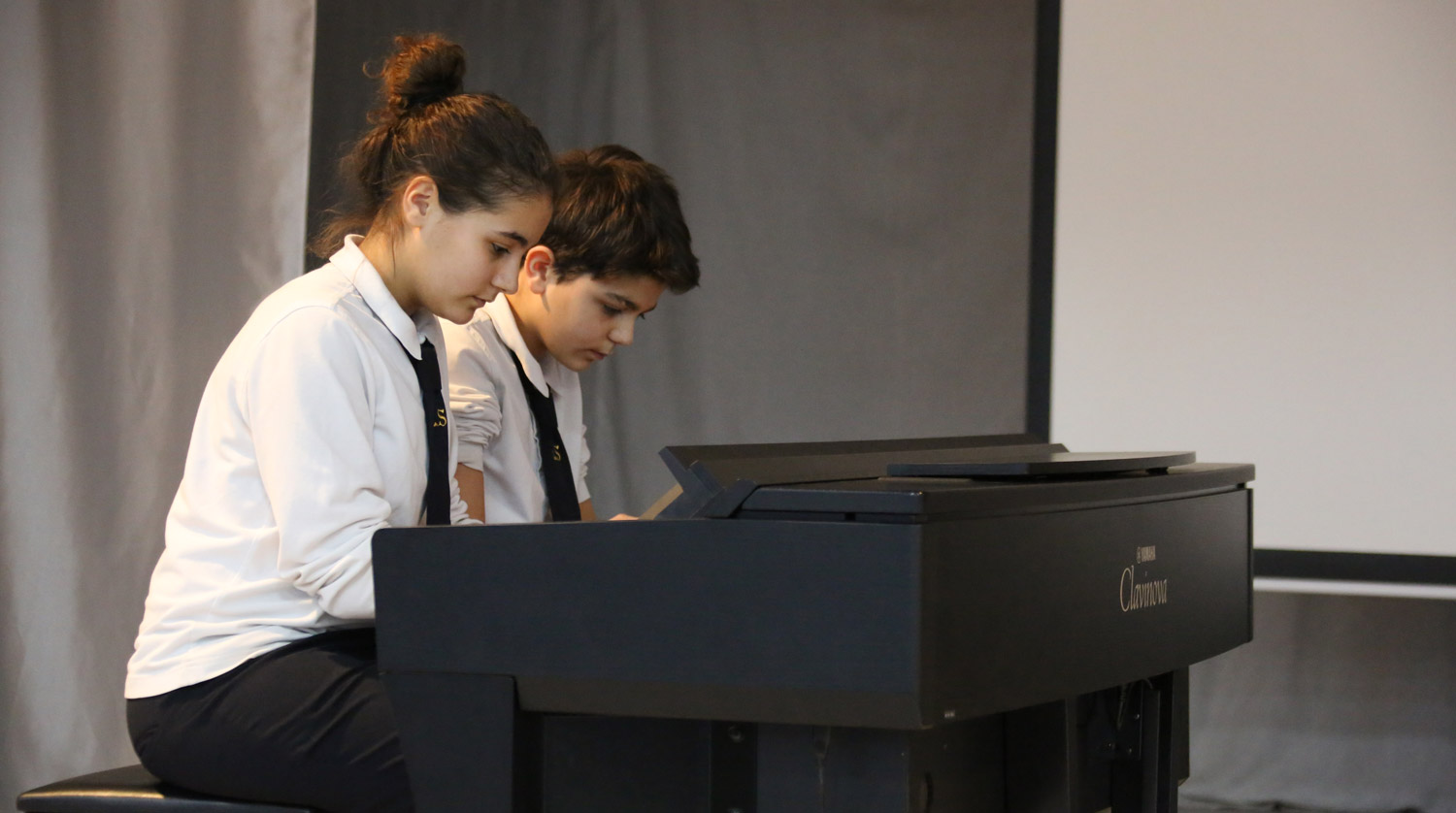 "The Most Talented" Contest
In order to support its talented students, the European School launched "the Most Talented" Contest in 2016.
The contest is supervised by the competent jury. Over time, the jury has been headed by prominent figures: Levan Tsuladze – the artistic director of the Kote Marjanishvili State Academic Drama Theatre, a famous actress – Rusudan Makashvili and a popular singer – Davit Gomarteli.
The winning nomination "Golden Star Talent" is followed by the second and third places: "Star Talent." The winner is awarded with a four-day trip to Gudauri resort.
Participants receive certificates.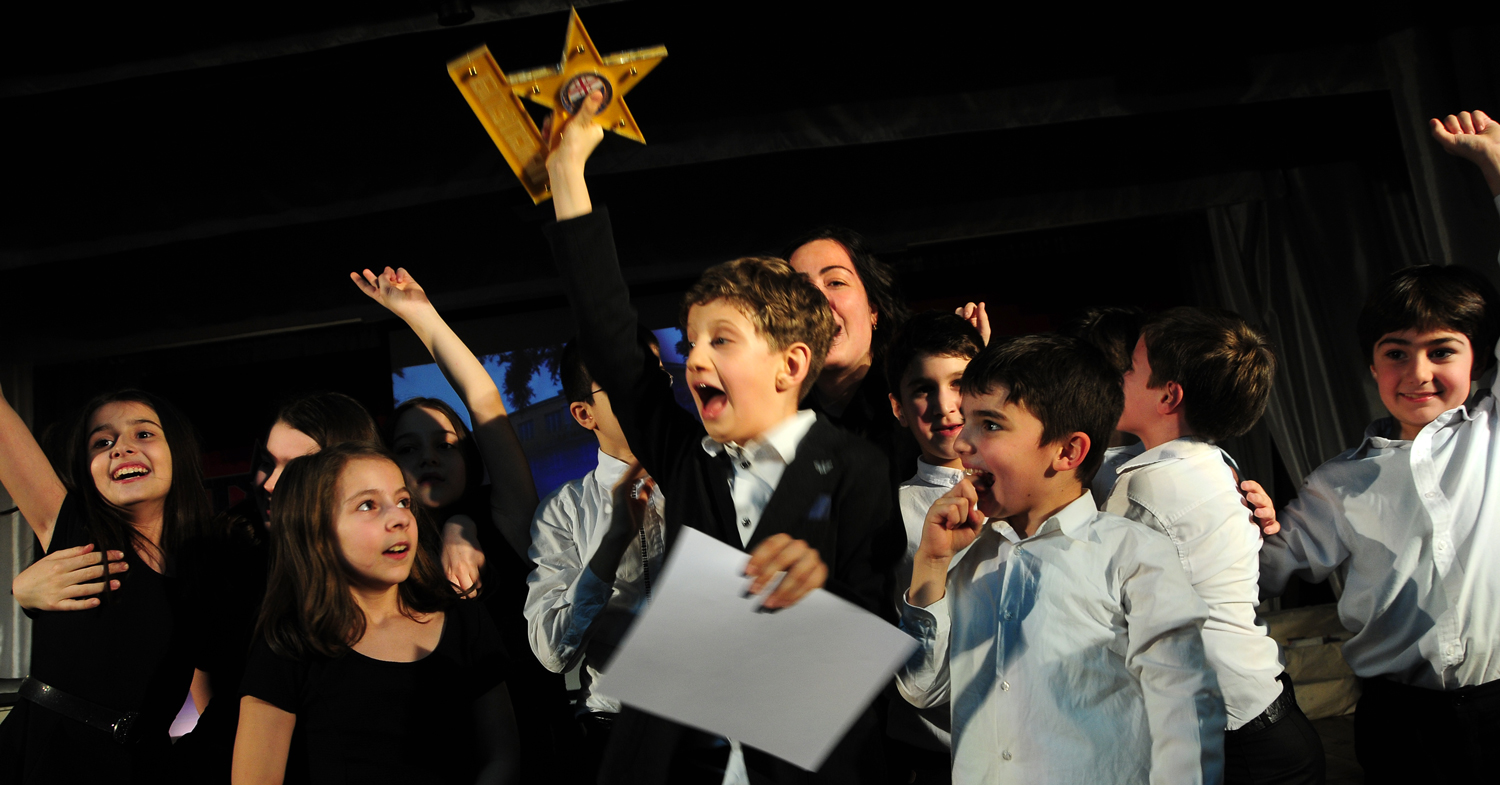 "My School (New Year Is Coming)" Student Art Exhibition
Since 2014, the European School has been organizing an exhibition of student paintings and works of applied art titled "My School (New Year is Coming)". The exhibition has its own guidelines and program and is supervised by a competent jury.
The jury is traditionally headed by famous artists and art critics, including:
Keti Matabeli – a famous artist, Shota Rustaveli Prize winner, Honorary Citizen of Tbilisi, Georgian Spirit Prize winner and Gold Medalist.
Irine Koshoridze – the Director of the Georgian State Museum of Folk and Applied Art, a professor at the Ivane Javakhishvili Tbilisi State University, curator at the Georgian National Museum, etc. 
The growing number of participants indicates that the exhibition has become very popular among the students.
The exhibition consists of two stages. The paintings are displayed at the school exhibition hall where the winners are awarded special diplomas and prizes.
The best works of the exhibition are printed on European School Christmas postcards.
Participants of the exhibition have gone on to become the winners of various national and international festivals and contests.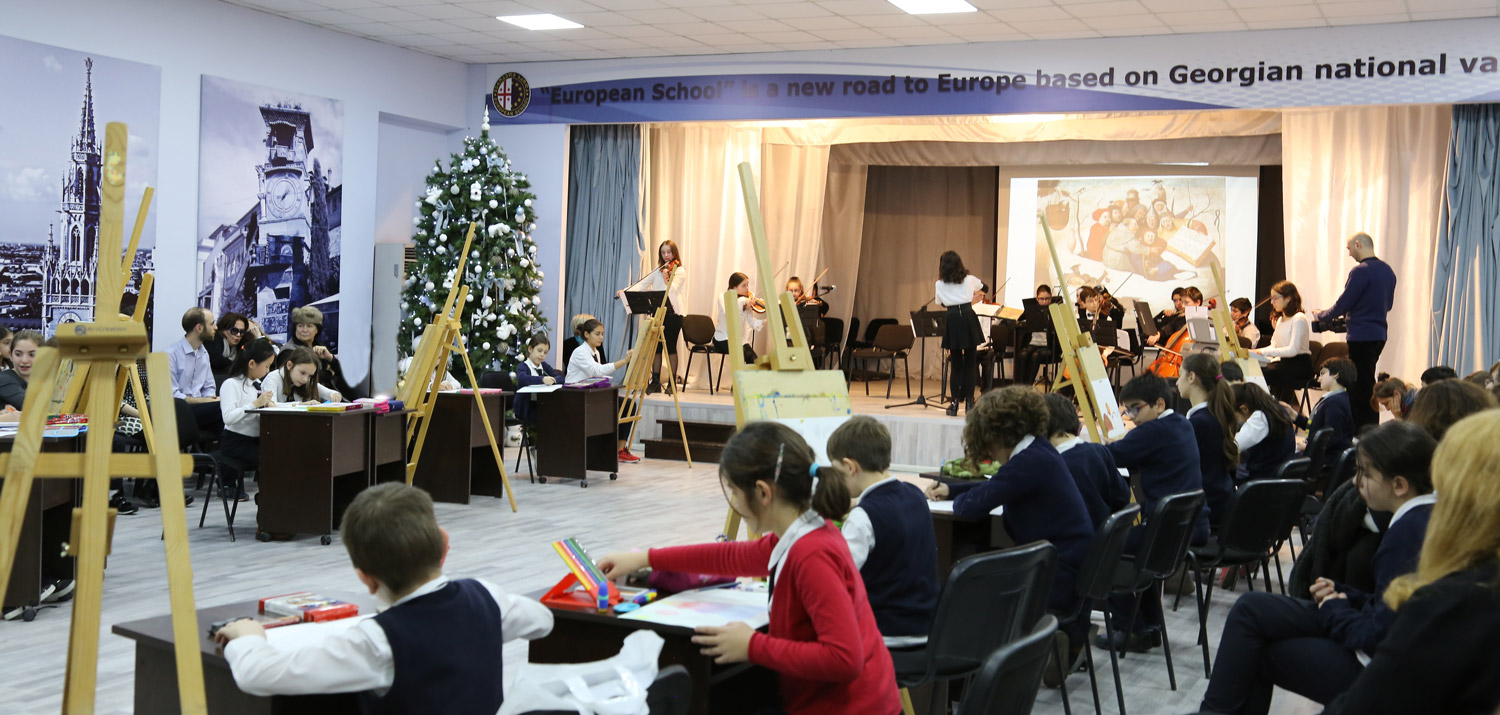 Iviko Chelidze Soccer Tournament
In order to honor the life and memory of tragically deceased Iviko Chelidze, a former European School student, the European School and Tbilisi City Hall established the Iviko Chelidze Soccer Tournament in 2011. The tournament takes place at the European School annually. Over time the tournament has gained popularity since it is open to students from different schools as well.
Special prizes are awarded to the winning teams.
Golden Butterfly International Student Movie Festival
The presence of the TV Studio at the European School and students' avid interest in movie-making resulted in the creation of a movie forum at the European School. In 2011, the Golden Butterfly Movie Festival was launched. The festival is held annually, on May 29 through June 1, and is dedicated to the International Day for the Protection of Children.
Georgian and international students under the age of 18 participate in the festival. The festival welcomes competitive and non-competitive participation. Students meet with famous filmmakers, learn about modern cinematography techniques, participate in short films and sketches and develop teamwork skills. It is noteworthy that the movies submitted to the festival do not necessarily need to be of the highest production quality. The jury is more focused on the concept of the movie.
The festival aims at identifying and exposing young and talented movie-makers and their creations and sending them to international movie festivals.
Since 2011, up to 400 participants have taken part in the festival, from different regions of Georgia as well as from foreign countries: Germany, Ukraine, Azerbaijan, Bulgaria, Macedonia, Russia, Iran, Canada, Greece, Poland, Belgium, the U.S., Serbia, Moldova, Belarus, etc.
The winners and Grand Prix recipients of 2011-2023:
The festival winners and Grand Prix holders were:
2011 year –  film – Guest from Holland – Director Tamar Arveladze ("ESTV")
2012 year – film – Equals Heart – Director Tekla Tevdorashvili("ESTV")
2013 year –  animation – "Love Hurts"  – Director Petre Tomadze (Company "Studio+A")
2014 year – film (musical) – Zuka and Nuka – Director Zurab Dedabrishvili("ESTV")
2015 year – film– Sounds of Music  – Director Naia Modebadze ("Pionerfilm")
2016 year – film "Bicycle"  – Director Giorgi Chakvetadze (Abasha)
2017 year – film "Don't open the door!"  – Director Vasile Luca   (Romania)
2018 year – film "Harmonica" – Director Pelagia Hatzinikita   (Greece)
2019 year – film "Leo's Birthday" – Director  Nika Zubashvili ("Pionerfilm")
2020 year – Short Feature Film "Chaos of emotions" (Psychological drama) – dir.. Saba Bodokia (student of Geguti # 1 school)
2021 year – Short Feature Film Fomo-Director Kevin Meggs & Max Hendrickson (Ireland)
2022 year – Short Feature Film-A Twist- Director Pablo Soto (Greece)
Golden Butterfly collaborates with similar festivals worldwide and constantly exchanges information regarding young and talented moviemakers. The winners of Golden Butterfly (Nino Sichinava, Tekla Tevdorashvili, Zuka Dedabrishvili, Elene Tskhadadze and Nika Arabidze) have participated in movie festivals in Geneva (Switzerland), Annecy (France), Giffoni (Italy) and Varna (Bulgaria).
The creative group of festival organizers periodically deliver presentations at children's educational and rehabilitation institutions. These presentations aim at raising awareness about Golden Butterfly and engaging children in the festival activities.
Participating in the Golden Butterfly festival allows children from the Georgian Diaspora living abroad to visit Georgia.
Since 2011, the festival has hosted many honorable guests, including famous filmmakers, actors, directors, producers and movie critics (Rezo Chkheidze, Lana Ghoghoberidze, Tamar Tatishvili, Gogi Dolidze, Zurab Maghalashvili, Baadur Tsuladze, Giorgi Kakabadze, Neli Nenova, Zurab Tsintskiladze, Giorgi Ovashvili, Irina Demetradze, Tamar Datuashvili, Aleko Ninua, Malkhaz Kukhianidze, Davit Gujabidze, Giorgi Kharebava, Beso Megrelishvili, Kakha Kintsurashvili, Tornike Bziava, Giorgi Kalandarishvili, Michael Hoffman, Natalia Arlauskaite, Rositsa Mladenova, Andrey Golovetsky).
Since 2013, Golden Butterfly has been a member of the children's movie association ECFA.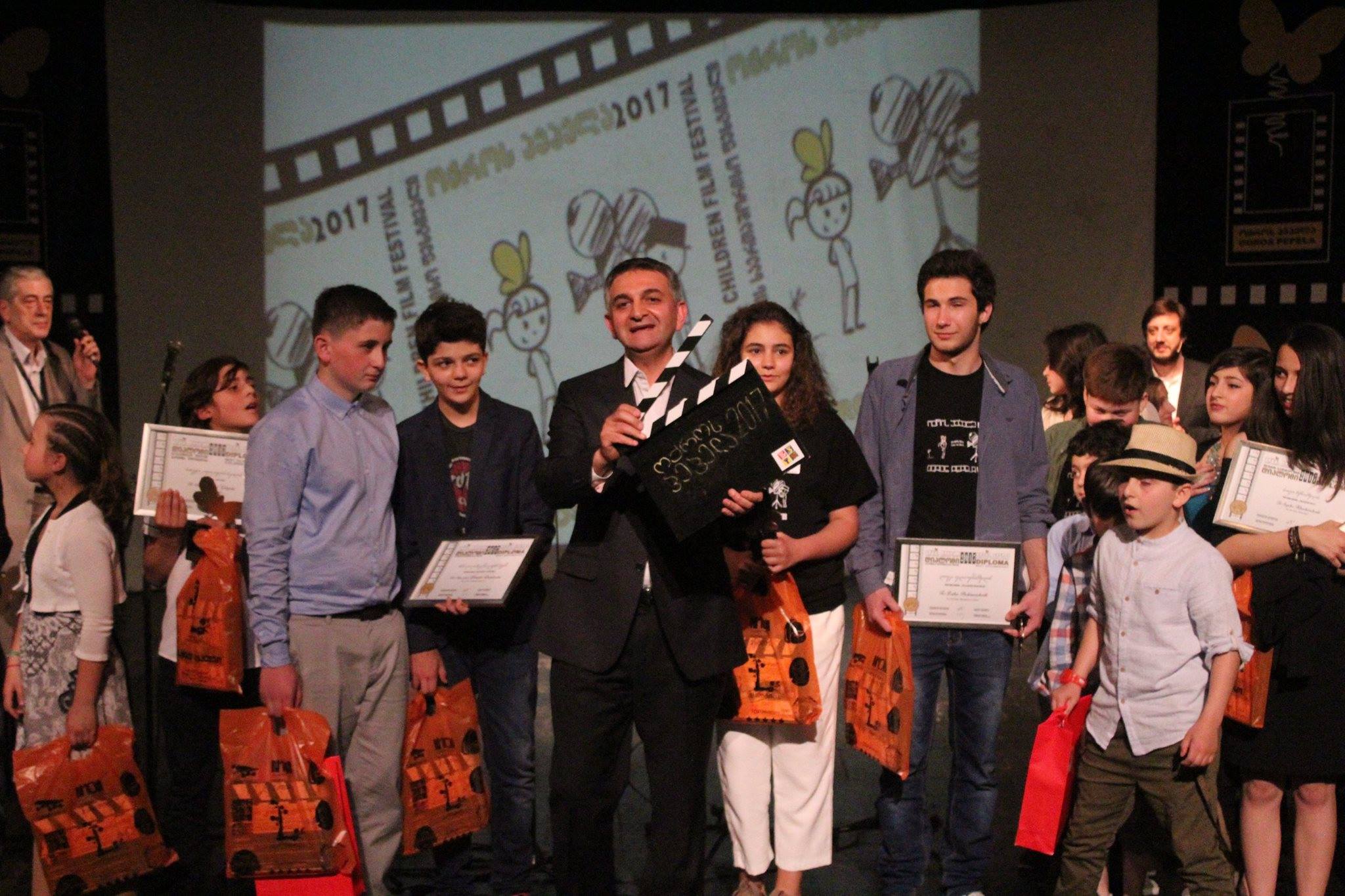 Student Project International Conference (SPC)
The Student Project International Conference (SPC) is the European School's annual conference. The primary aim of this event is to bring together young researchers, inventors, and creative individuals and give them an opportunity to present their projects to a large audience, as well as to interact with other enthusiasts and have an enriching learning experience. Conference delegates attend engaging sessions and participate in various team building activities in a friendly environment.

Europe Day
Every year, the ES celebrates Europe Day by organizing a fair that allows school community and invited guests to get to know different cultures from the European Union. The fair provides national corners and stands where students dressed in national costumes introduce visitors to their chosen country, its culture, traditions and more. At the Europe Day celebration, songs are performed in various European languages and dance groups represent various European dancing styles, from flamenco to slow waltz.